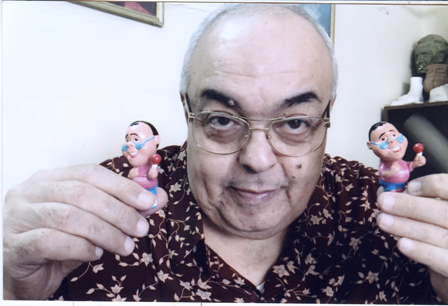 Birth : he was born in Cairo in 1952 .
Educational Experience : He was graduated from Higher Institute of cinema, Animation Department in 1976 with a grade excellent and he also attained the master and doctorate degree with a grade excellent and now he teaches in Animation Department, Higher Institute of cinema.
Professional Experience :-
- He practised drawing the caricature for the first time in Nocrashy secondry school.
- He's the previous vise president of Egyptian Animation Association.
- He worked as a caricature drawer in Sabah El Khair magazine from 1971-1973 then he worked later in Rose El Youssif Magazine.
- In 1976 he worked in El helal Bookshop organization as a caricature drawer and in the same time a drawer of comic children series in Samir Magazine.
- His film of graduation "Tale of Kanaka" which criticizes the elections bribes has got the first award in Festival of Short and Documentary Films in 1978 .
- He worked as an artistic director of Flash Agency and a free designer of graphics in the field of designing advertisements and paper cans.
- He worked as advertisements director of animated cartoons and a drawer of stories "story board" in Promotion Agency and he worked also in Al-ahram Agency from 1992-1995 .
- He directed the series "saving team" cartoon for the Children Channel of ART space channel and he has got the Golden Award for this series in the festival of children cinema in 1997 .
- He worked as a designer of characters for Ahmed Bahgat space channels and he succeeded in drawing 14th cartoon characters representing all the places of Dream Park amusements center as well as he drew the character of Doby the child who wears a short trouser and holds a Lollipop in his hand.
- He teaches now in Higher Institute of Cinema, Animation Department .