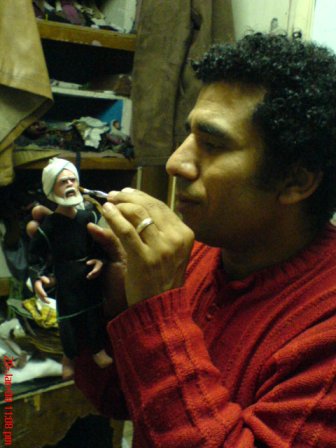 Study : He was graduated from Faculty of Fine Arts, El-Minya University - Department of sculpture 1992 , he had attained the master of fine arts from Helwan University and finally he has got the doctorate degree in fine arts from El-Minya University .
Exhibitions : He took part in the 12th youth saloon, he participated also in the 4th small works of Art Exhibition and he was a member in the 39th exhibition of pioneers organized by the Lovers of Fine Arts Association in addition to that he shared in El-Minya sculptors exhibition in Cairo atelier and he participated also in the 7th small works of Art saloon in 2004 and Egyptian tale exhibition (Mohamed Mounir) .
Professional Experiences : after his graduation from Faculty of Fine Arts in 1992 he has got the Master degree in 2002 and this year was his first step to practice sculpture so he fabricated precisely made phoaronic antiquities specially those which belong to Tot Ankh Amon tomb including the masks, jewels, coffins and funeral antiquities in natural size and he also organized many exhibitions abroad for exposing these works of art and they all succeeded in attracting people .
he had worked also in crystal Asfoor factory, Department of Gifts in the field of founding and shaping metals and painting and stopped to prepare the doctorate dissertation.
 The Big Artist Zainb Zamzam cared about Ali Ayesh experience since he was a student in Faculty of Fine Arts and she gave him the chance to work with her in sculpturing a lot of cinema characters by using clay for example open your eyes - the dream of potter - the city of happiness in addition to her drama works made by clay like prophets biographies - holy names of Allah - the reasons for verses of Koran descending - those who are promised by paradise.