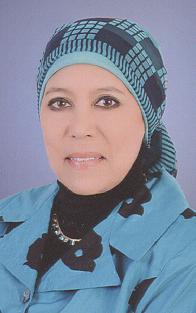 Birth: She was born in Cairo, and has attained the licentiate of Arts, Sociology Department, Ain Shams University.
Her mother has discovered her talent at age three years old as she was reciting the songs immediately after being heard. So she encouraged her and presented her to the TV programs at age eight years old.  
She has participated in the TV choir with the maestro, Salah El Din Mustafa, and sang (soloist) heritage songs and others. She acted and sang in the program (M Seven) in TV directed by Mahmud Hanafi. She also acted in the children's plays trained and directed by Enaam El Gretly in Television. Then, she sang with Baba Maged Abdelrazek in the child programs directed by Ahmed Samy Abdullah. She acted and sang in the child programs in radio such as Abla Fadela, Abla Khadiga El Serafy and Abla Rawhyia King.
After her graduation, she has worked in El-Samer Theatre (Mass Culture Palace) as a singer and actress, and then she moved to the Tomorrow Band in the Arab Theatre till she became a great artist in the band.
Her Most Famous TV Works
-  As a child, she sang the advertisement (Two Beautiful Sisters, Hanaa & Shereen) composed by the musician said Mekawy and directed by Fahmy Abdel Hamid.
-  She participated in singing 30 rounds of (Fawazeer Fatota) for Samir Ghanem and Sahar Ramy, directed by Fahmy Abdel Hamid. She has worked with several composers such as Ahmed Sedki, Ammar El Sherei, Ibrahim Ragab and Abdel Azeem Eweeda.
-  She has acted and sang in the famous program (Semsem world). One of her famous works presented is (Strange Pen) in which she explains, by her voice, the letters from A to Z to the children.
She presented many famous songs in Television including (Thanks Our God) composed by Abdelhamid Tawfik Zaki, (Gay El Hawa) written by Said Hegab and composed by Ammar El Sherei; through a program (This Evening) presented by Samir Sabry and directed by Fathi Abdul Sattar and a song (Tab Wana Mali) directed by Fathi Abdul Sattar.
Her Most Famous Works in Radio
She presented the song (Bein El Ganayen) witten by Kamal Ammar and composed by Sayed Mekawy, the song (People's Love) written by Galal Abdeen and composed by El Mougy El Sagheer and the song (Meen Dah Elly Mohem) written by Ezzat Abdel Wahab, composed by Riad EL-Hamshary and distributed by Yehia El Mougy. She has presented about 200 songs, written by Ibrahim Baalosha and composed by Ahmed Hussein, for the program (Tomorrow Heroes) in the Palestine's radio with the Palestinian accent. She has also presented the song (Feast Celebrations) written by Salah Ammar and composed by Ibrahim Fares.     
Her Most Famous Works in Theatre
-  She has presented to the Puppet Theatre many works such as (Semsem Shaqawa) and (Strange Journey), directed by Mohamed Shaker and Mohamed Kesk "Acting &singing".
In Cinema
She has sung in the film (Samaa Hous) directed by Sherif Arafa for Laila Elwy as well as the film (El Noom Fi El Assal) directed by Sherif Arafa for Adel Emam.
Arabic film (Molan) "Matchmaker" character and a film (Hotel Transylvania) "Eunice" character.