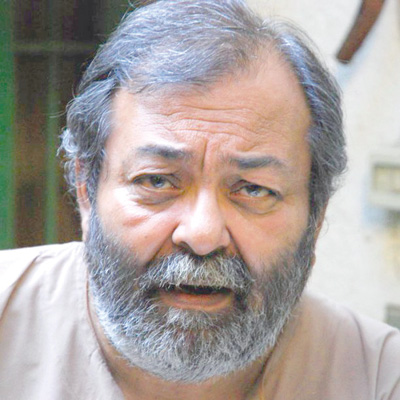 Qualification: He was graduated from Faculty of Fine Arts, Cairo University in 1974.
He is an Egyptian visual artist; working as a décor engineer, painter, a visual development artist and a narrator. He has studied in The Collège de la Sainte Famille. In 1986, he moved to the United States of America, and after four years he has been designated as a décor designer inside the Walt Disney Company for six years. Afterwards, he has worked for DreamWorks Animation in the Film (Egypt's Prince) as well as two other animated films. He has participated in designing the décor of Egyptian plays such as "El Eyal Kebret" and "Shahed Mas Shafash Haga". He was known for the innovation of the blue bear character "Kimo"; as a promotion for one of the ice cream products. He was interested greatly in studying the lines, urban history, Egyptology and the stories of Alf Leila Wa Leila. He has several famous portraits such as "African Woman" and "Chinese City". He was characterized by writing the children's stories which achieved a great success internationally such as "Behind the Secret Doors" and "Pharaoh Bride". In 2005, he came back to his home country, Egypt, and presented many artistic and visual works. He has gotten several local and world awards in the field of painting, graphic design and advertising for a wide range of products and children's books and plays as well.
Jobs and Positions Held:
From February 2005 to 2014, he was the counselor of BiscoMisr's technical director and a painter for many works including: - The Stories of Alf Leila Wa Leila.
From 1998 to 2004, he has worked as a free décor designer; his works including: - Warner Brothers, Fun Fair and Universal Studios.
From 1995 to 1998, he has worked in DreamWorks Animation and cooperated with the universal director, Steven Speilberg, in the films (California), (Egypt's Prince), (El Dorado) and (Spirit: Stallion of the Cimarron).
From 1988 to 1989, he worked in Culver Glassware Company, in New Jersey, as a painter and a graphic designer. In 1987, he worked in Scotch Plains Company, in New Jersey, and designed the logo of Gigi Intimates Company, in Texas, as well as the graphics of Alf Leila Wa Leila Stories inside the Kuwaiti magazine (Young Arabian).
From 1981 to 1986, he was designing the advertisement of Sheraton Cairo Hotels, the graphics of the Kuwaiti magazine for Children (Young Arabian), the advertising campaigns of both Kimo Ice Cream Co. and Milky Land Co. as well as the Blue Bear Character (Kimo).
Prizes
He has been given the Best Painting Prize for children' books in 1979, he has been given the Best Egyptian Painter Prize by the National Association of Child Books in 2004, and he has gotten the Honor Prize from IBBY (Switzerland) in 2006 for his graphics of (Behind the Secret Door) Book.
His Death
It has been declared on March 7, 2015 in his personal account on face book that he is afflicted with leukemia and taken to Saint Josephs Hospital, in the city of Providence, Rhode Island,   to receive the chemotherapy. After he has been struggling with his disease for five years, it has been declared that he is dead, on 24 August 2015, at age 64 years old. There were a great debate and controversy in many Egyptian newspapers, particularly in the social media, because of his death; where a lot of young people considered him a source of inspiration in the endurance and resistance his death.